Fresh from a Series A raise of $8 million and barely a year into a partnership with Microsoft, Lightstream is ready to scale in a massive way.
"We're a small team with enterprise-class problems," says Stu Grubbs, its co-founder and CEO.
The company's browser-based, cloud-enabled streaming studio interface seamlessly integrates with Twitch, YouTube, and Facebook Live. It's free, lightweight, and powerful –– "like Google Docs for live video production," Lightstream's website explains.
Since last year, Lightstream has been delivering a dedicated product to Xbox users as well, who can broadcast via Mixer, Microsoft's streaming platform.
"We're serving a massive, worldwide customer base now," says Stu.
Their latest move was to use some of their fresh capital to hire a new CTO: Jenny Farver, an MIT PhD with C-suite expertise building tech teams.
"I see a lot of opportunity for innovation," Jenny says of her new gig. "I love how tech-forward this space is."
Launched as part of the Chicago Techstars 2015 cohort, Lightstream has grown from a team of four (Stu and his three co-founders Aaron Hassell, Dan Trocchio, and Ryan Forquer) to a brand with a global reach. But even with $3 million in annual revenue and $9.8 million in funding overall, they're still a small office –– 23 employees and counting.
How has Lightstream evolved and where are they headed? Stu and Jenny dropped by the WGN Studio to talk staff shuffles, side hustles, deep-sea diving, and more.
Here are three key lessons from the front lines of content creation.
Leadership: Being the right person at the right time
Early startup life goes a little something like this, says Stu: "You found a company, you find your smartest engineering friend and you start building something that everyone else is calling you dumb for trying.
"Time passes and you add team members, quickly iterating and iterating until you find a product that's addictive to the community you serve. But none of that involves running a truly wonderful place to work with a really sharp five-year plan and all the things that go into building a great company."
The co-founders of Lightstream always knew, though, that success would require attention to those things.
"Even back at Techstars, we knew we may not always be in the positions we're in," Stu explains. "This is the conversation we kept having as the company scaled. There are two paths you can take: stick to the engineering path or move into the management role.
"Do you like being a manager and all of the responsibilities that come with that, or do you love being the most impactful person on our code and our technology? Those are two separate jobs, and you'll tear yourself in half if you tried it."
Both paths, says Stu, are extremely important. At Lightstream, co-founder Dan Trocchio chose to step down as CTO and focus on the code. He's now the company's Principal Engineer.
"Dan will forever be the co-founder of this company, the architect of what we are today," Stu says. "And no one will ever take away the shares he owns in this company."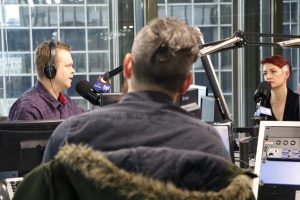 This philosophy applies to everyone, he notes: "I'm going to try and rise to the challenge of wherever the company is at the moment. But when we're a 100-plus person team, there might be somebody better at this for that phase of the company. That doesn't negate that I was the right person for the job at one time."
Culture: Engaging generalists and specialists
Jenny sees her role at Lightstream as "creating an environment where people can do great work –– people stuff," she says. "It's about how, with all the instability of startups, you can still create a company that's great to be from –– a great place to have cut your teeth, to have learned things."
Jenny cut her own teeth in academia, then at Popular Pays (as CTO) and Civis Analytics (VP, Engineering). Throughout her career, she gained confidence by reaching out to the tech community. "When I felt thrust into a job or unqualified, I found a CTO group that was very helpful, in terms of mentorship. It's still a great resource," she says.
At Lightstream, she says, "I recognized that this company needed someone who could bring together lots of different technical specialists to pull off something that any one of them couldn't do. I'm not any of those specialists, but I can bring people together to achieve that greater goal."
Jenny thrives on the dynamic nature of startup life. "Sometimes I'm just curious and passionate about something I'd love to try my hand at. Maybe it'll work and maybe it won't.
"Strength doesn't only come from being master of a craft. I enjoy the ability to be a generalist and work across a lot of domains. I think it's hard to find, the bigger the company you're at."
Product: Empowering customers

In our culture, some of the most popular stuff is created by indie makers, not media conglomerates. "The podcasting market has entirely proven your hypothesis," Stu observes.
It's in this spirit that Lightstream empowers users with tools that allow them to "feel like a professional from the beginning," he says. "Then, once you've grown an audience, how do you turn that hobby into a business?"
Whether it's a gamer monetizing their Twitch stream or a personal trainer on Facebook live promoting their studio with free workouts, Lightstream's data analytics help users evaluate how their content resonates with audiences.
"You can tie that data back to your per creative process," Stu says. "For example, you can learn that every time you switch to a certain camera angle, you seem to lose a viewers at a rate of X. We make your growth part of the creative process, not something you just analyze later."
It's common for Twitch users to subscribe to 20 different channels at $5 each per month, Stu notes: "I haven't done the math, but it doesn't take many subscribers to beat minimum wage."
Stu remembers how good it felt as a teenager to upgrade his PC with funds he earned from blogging. "Real economic opportunity does not have to be tremendous to feel accomplishment," he says. "If you can make a little bit of money that helps you buy that next game or upgrade your equipment, that can be enough for you to keep sharing your story, whatever it might be."