Tech startups are increasingly cloud-native. Companies of every kind are migrating their data and ops to maximize efficiency, security and agility with cloud-based services.
But what about businesses that have been around for 50, or even 150, years? There are banks, insurers and government agencies whose legacy technology is older than most of my interns. They're likely planning to move to the cloud, but it's not necessarily a priority. They want to develop new apps, but not ready or able to rebuild everything from the ground up.
Downers Grove-headquartered Ensono (formerly Acxiom) can handle it all. "We manage IT infrastructure for our clients," says CEO Jeff VonDeylen. "Applications sit on infrastructure, whether that infrastructure is a mainframe or an AWS or Azure public cloud."
By meeting legacy tech with innovative solutions and forward-thinking culture, Ensono is busting the cliche: bring in a consultant; everyone resents it. They're not reinventing the wheel –– they're enabling you to reinvent it for yourself, on your own time.
Here are the highlights from my interview with Jeff on how Ensono stands out from the pack.
Prioritize clients' ROI with an eye on your own
Outsourcing IT management to Ensono, Jeff says, can represent significant savings for clients –– "20 percent is our target. It's got to be a better cost than if they were to manage it themselves. But we also unleash their ability to focus their energy on the things that matter most."
Knowing what those things are –– and empowering clients to make them happen –– is  another way Ensono is unique. It built an advisory board comprised of their best customers.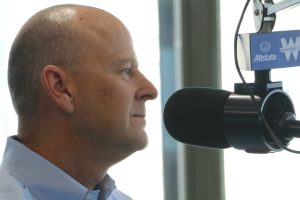 "We participate in a huge, $100 billion market, and there are always going to be legacy applications and infrastructure," says Jeff. "We have capability there, but if I look out 10 years, I see the predominant share of our business as helping clients with more modern infrastructure, whether that's SaaS, public cloud, IaaS containers, et cetera.
"But I can't tell you the number of clients we've had that have been on a five-year journey to get off the mainframe for the last 10 years. We want to make sure it doesn't prevent them from developing really cool interactive applications for their business. Ultimately, it's a cost-benefit analysis: what makes the most sense?"
Focus on diversity
The advisory board's feedback has helped the company increase its own diversity while providing insights to the tech community at large.
"You don't get better at something unless you have a stated goal," says Jeff. "For us, it's figuring out how to attract as many diverse candidates as possible. We really believe that diverse candidates give us opportunities to be better at what we do."
Ensono's ethos is to "be aware of where we stand," he says, and to embrace specific moves toward gender parity. "We're at 20 percent [female employees] and we want to be at 30 percent. We have no women on the board, and we want to have a woman on the board."
Their commitment extends to thought leadership, as well. Ensono recently commissioned on the gender imbalance of speakers and panelists at tech conferences. It was inspired by an employee who noticed that the women's restrooms at a recent conference were empty. "We're elevating awareness," says Jeff. "But I think awareness is already there –– certainly you read a lot about it, especially in Silicon Valley. But I'm not sure they're making it better."
Ensono is hoping to make further impact in its new Indian office. "In India, it's a little less a female friendly," Jeff says. "We're trying to raise the game as a U.S. company with Indian operations. We have one of our senior leaders there trying to attract, retain, and think about how we get more women into the business."
Help legacies evolve
Though the company offers both public and private cloud management, Ensono's unfair advantage is its expertise with legacy infrastructure, including mainframe and mid-range environments like AS/400 and iSeries.
"We're a safe pair of hands," Jeff says. "Our clients are insurance companies, financial institutions, state governments that have been around a long time. A typical client is a 56-year-old business."
Many of those clients have an aging workforce and they want to modernize, explains Jeff. But they're not just enabling cloud migration.
"Applications are going to move to the cloud. We don't take a view that it's not happening," he notes. "But we want our clients to be able to get there in a timeframe that makes sense, that prioritizes the things that are most important to them."
In practice, this means managing technology that's aging –– sometimes quite gracefully, Jeff says. "Some of those applications –– the systems of record, as we like to call it, are really secure and really do the job. We had 20 interns last summer, our 'mainframe millennials,' who we trained to help clients with applications that sit on mainframes."
Legacy tech doesn't provide "systems of engagement," he says –– what enables us to engage with our mobile devices. "But mobile devices are calling on those systems of record to do what they do."
Jeff calls Ensono's philosophy "operate for today, optimize for tomorrow." One client, a prominent coffee manufacturer, "can't get his cool guys to go work on the stuff that we run for them," he says. "But what we run for him is the company's point of sales technology." Now, Jeff says, they're freed up to develop "all the cool apps that interact with those point of sales."
The customers' customers are yours too
Jeff notes that end user experience is paramount, whether an app is built on AWS or a company's own servers. "Customers don't really care –– they just want the application to work. We help our clients maintain those applications across their infrastructure, modernize their environment and improve their customers' experience."
That modernization can take many forms. "At the right time, we'll move from the mainframe," Jeff says. "Maybe it'll go straight into a public cloud. Maybe it'll go into a distributed environment. But let's do it in a way that makes sense for the client's biggest priorities. Usually a board and a CEO are asking us to improve my customers' assurance and give them a great experience."